Click below to view our list of Guest Friendly Hotels in Hua Hin
Your Guide to the
Guest Friendly Hotels in Hua Hin
The guest friendly hotels stated below are all centrally located in Hua Hin and within short distance of the beach, bars and nightlife hot spots of the city.
These establishments are also very popular with like minded visitors and I have personally taken the time to contact each and every single one of them to make sure their guest friendly policy is still in effect. You can check out the reply they provided with the hotels description. All offer both great value and good service while the rates themselves can greatly vary from budget to 5 star luxury.
So, Where is the
action at in Hua Hin?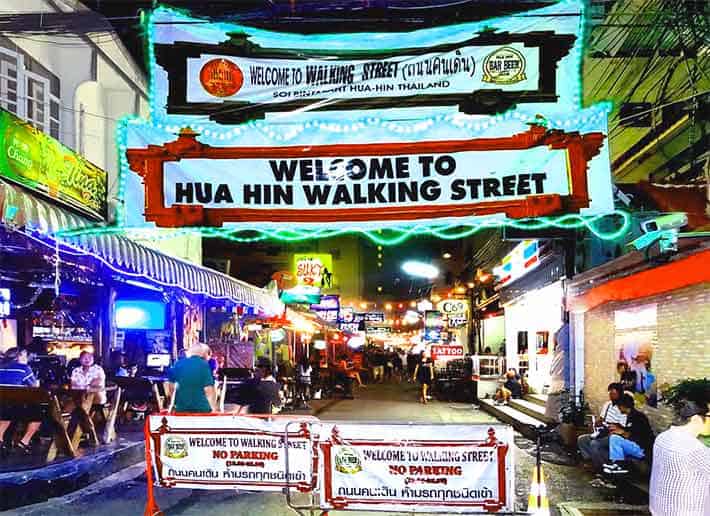 You can find right in the heart of the city a few dozen beer bars (think Pattaya without the dancing poles) located on and around Soi Bintabaht. Click here to view a map of the area.
Wondering what is a
Hua Hin guest friendly hotel?
A hotel that is considered guest or Bargirl friendly/ Girl Friendly/Guest Friendly simply means that the establishment will allow and won't charge any extra to take back an unregistered guest up to your room. A joiner fee can cost anywhere around from 10 to 25$ a night but could be even higher depending on the hotel policy. So if you unknowingly book a non-guest friendly hotel and plan on taking a girl back up to your room everyday for a week then you're going to be paying a lot more money unnecessarily or worst outright denied entry. This is by no means an indication of their respectability as each hotel has different policies as long as you're somewhat discreet. I have taken the time to e-mail them all personally to make sure about their policy and have given their reply with the hotel description.
$
< 1000฿
26 EUR
28 USD
37 AUD
40 NZD
221 HKD
40 SGD
37 CAD
$$
< 2000฿
53 EUR
57 USD
74 AUD
78 NZD
443 HKD
81 SGD
74 CAD
$$$
< 3000฿
79 EUR
86 USD
112 AUD
117 NZD
665 HKD
121 SGD
111 CAD
$$$$
> 4000฿
114 EUR
106 USD
149 AUD
155 NZD
886 HKD
161 SGD
149 CAD
List of certified Guest Friendly hotels located in Hua Hin

117/74 Takiab Road, Nongkae, Hua Hin, Thailand
Price Range: 

$$$

/

$$$$

 

                Amenities:     

   

3/158 Soi Moobaannongkae, Takiap Road, Nongkae, Hua Hin, Thailand.
Price Range: 

$$$

/

$$$$

 

                   Amenities:     

   

24/10, Srasong Road, Hua Hin, Hua Hin City Center, Hua Hin, Thailand
Price Range: 

$$

/

$$$

 

                   Amenities:     

   

1/18 Sasong Road, Hua Hin City Center, Hua Hin / Cha-am, Thailand
Price Range: 

$

                            Amenities:     

   

120/22 Soi Hua-Hin 78 Petchkasem Road, Hua Hin City Center, Hua Hin, Thailand
Price Range: 

$$

 

                   Amenities:     

   

5/5 Naebkhehars Road, Hua Hin City Center, Hua Hin, Thailand
Price Range: 

$

$$

/

$$$$

 

                   Amenities:     

   

13/91 Soi 47, Petchkasem Road, Hua Hin City Center, Hua Hin, Thailand
Price Range: 

$$

/

$$$

 

                   Amenities:     

   

91 Hua Hin-Khao Takiab Road, Khao Takiab, Hua Hin, Thailand
Price Range: 

$

$$$

 

                   Amenities:     

   

83/188 Soi Talay 12, Khaotakieb-Hua Hin Road, Hua Hin, Thailand
Price Range: 

$

$$$

 

                   Amenities:     

   

116 Naresdamri Road, Hua Hin Beachfront, Hua Hin, Thailand
Price Range: 

$

/

$$

 

                   Amenities:     

   

22/65 Naeb Kaehat Road, Hua Hin City Center, Hua Hin, Thailand
Price Range: 

$

$$$

 

                   Amenities:     

   

79/9 Petchkasem Road, Hua Hin City Center, Hua Hin, Thailand
Price Range: 

$$

 

                      Amenities:     

   

6/3 Damnernkasem Road, Hua Hin, Thailand
Price Range: 

$$

/

$$$

 

                   Amenities:     

   

250/139 Soi Hua Hin 94, Petchkasem road, Hua Hin, Thailand
Price Range: 

$$

/

$$$

 

                   Amenities:     

   

21/1 Naretdamri Road, Hua Hin City Center, Hua Hin, Thailand
Price Range: 

$

/

$$

 

                   Amenities:     

   

1/12 Naeb Kaehat Road, Hua Hin Beachfront, Hua Hin, Thailand
Price Range:

$

/

$$

 

                   Amenities: