Click below to view our list of Guest Friendly Hotels in Phnom Penh
Your Guide to the
Guest Friendly Hotels in Phnom Penh
The bar girl friendly hotels stated in this list are all centrally located in Phnom Penh. They are very popular with like minded visitors so you shouldn't experience any problems bringing home a guest as long as you maker sure she has a proper piece of ID with her. All offer great value for the money and good service while the rates themselves can greatly vary anywhere from budget to 5 star luxury.
So, Where is the
action at in Phnom Penh?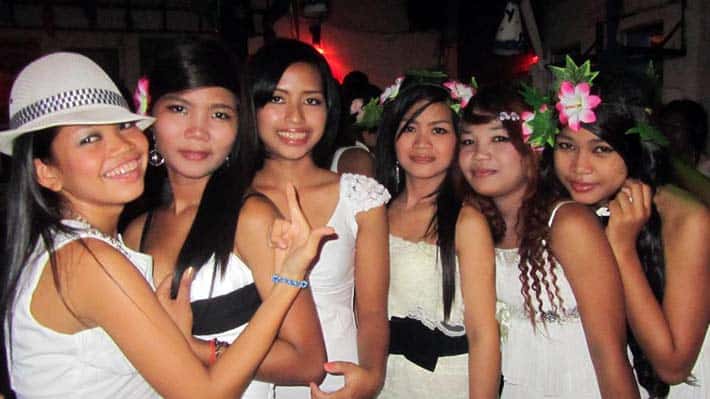 Phnom Penh is a surprisingly good little party town. The nightlife is vibrant offering a wide range of evening venues, from dance clubs and girly bars to neighborhood pubs and crazy clubs. Your best bet is to start out with any of the major freelancer spots which are: Heart of darkness, Walkabout bar, Sharky's and Martini, Darkness club, Shanghai club and Butterfly.
Wondering what is a
Phnom Penh guest friendly hotel?
A hotel that is considered guest or Bargirl friendly / Guest Friendly / Girl Friendly simply means that the establishment will allow and won't charge any extra to take back an unregistered guest up to your room. A joiner fee can cost anywhere around from 15 to 25$ a night but could be even higher depending on the hotel policy. So if you unknowingly book a non-guest friendly hotel and plan on taking a girl back up to your room everyday for a week then you're going to be paying a lot more money unnecessarily or worst outright denied entry since Cambodian hotels are generally more strict than their Thai counterparts. This is by no means an indication of their respectability as each hotel has different policies as long as you're somewhat discreet. I have taken the time to e-mail them a personally to make sure about their policy and have given their reply with the hotel description.
$
< 1000฿
26 EUR
28 USD
37 AUD
40 NZD
221 HKD
40 SGD
37 CAD
$$
< 2000฿
53 EUR
57 USD
74 AUD
78 NZD
443 HKD
81 SGD
74 CAD
$$$
< 3000฿
79 EUR
86 USD
112 AUD
117 NZD
665 HKD
121 SGD
111 CAD
$$$$
> 4000฿
114 EUR
106 USD
149 AUD
155 NZD
886 HKD
161 SGD
149 CAD
List of certified Guest Friendly hotels located in Phnom Penh near the action

#1, Street 154, Corner Sisowath Quay, Riverfront, Phnom Penh
The Amanjaya Pancam Hotel offers a fabulous location right on the riverfront with practically everything available at walking distance: Sights, bars, massage, etc. The Junior Suite in which I stayed was very spacious and equipped of all wood furnishings: floor, sofa, table arm chairs, sink base, bed-base,etc. Really loved the interior design. The en-suite bathroom was also very spacious with separate full sized tub and walk in shower. The view from balcony of the Sisowath Quay and riverfront are great, some street noise but very mild once inside the room with doors closed .The rooftop bar offers a great panoramic view of the area in either an open air or air-conditioned settings.
Price Range: 

$

$$$

 

                                      Amenities:     

   
Guest Friendly policy reply by the Amanjaya Pancam Hotel: "Warmest greetings from the Amanjaya Pancam Hotel! Referring to your below mention request, it is possible for you to bring a lady to your room but she have to leave her ID or passport at the reception. Best regards, Ms Chariya -AMANJAYA PANCAM HOTEL".

38-50 Street 148, Khan Doun Penh, Riverfront, Phnom Penh
The Angkor International Hotel is centrally located: in 5 minutes walk you can be at the riverfront and it's many pubs, sights like the royal palace, national museum, wat ounalom are just as close and at night Heart of Darkness disco is less than 10 minutes away. The Superior rooms was fairly spacious and equipped with these amenities: Decent bed, air-con unit that did its job, Flat-screen TV had a choice of international channels, safe, fridge, wi-Fi is fast everywhere and a proper bathroom with powerful shower.
Price Range: 

$

/

$$

 

                                        Amenities:     

   
Guest Friendly policy reply by Angkor International Hotel: "Dear Customer, Would love to inform you that there is no extra fee for the new guest but she must Show her ID or passport to represent herself at the reception because this is the policy of the hotel and our country regulation and we do this for the safety of our hotel clients. Regard, Pat Syna".

#45, Corner of Street 13 & 118, Near Riverfront, Phnom Penh
The Dara Reang Sey Hotel is located only few blocks from the waterfront area, close to all the main sight seeing spots and nightlife with Sharky's bar only 2 blocks away and Heart of Darkness disco maybe 10 mins walk max. The room was basic with older decor but then again you can't expect too much for around 30$/night. Important is that the room amenities all worked well and included: Air-Con with fan, fridge, TV, firm beds, bathroom (wet room type) had hot water. Everything was kept clean and tidy during my stay, room was cleaned every day and towels changed. Wi-Fi was a little patchy at times in the rooms but OK in their cafe.
Price Range: 

$

/

$$

 

                                         Amenities:     

   
Guest Friendly policy reply by the Dara Reang Sey Hotel: "Greeting from Dara Reang Sey Hotel! Thank you very much for your email. We would like to inform you that we also have a guest friendly policy which would allow customers to bring an unregistered guest overnight without any additional fee. However, we would like to inform you that the unregistered guest (Local Khmer Girl) must be 18 years old or above. We need her ID card at reception. Thank you for interested in our hotel. Best regards, Neath"

Building 23-25 Street 136, Phsar Kandal 1, Close to Riverfront, Phnom Penh
The Golden House International has an EXCELLENT location just one block from the Riverfont and right on Street 136 (red light area) with plenty of hostess/girly bars almost at your door steps! The double room was a little smaller than average but was spotless, bright and cheerful. Bed was really comfy, LCD TV on the wall had plenty of international channels including movie channels, small fridge, tiny writing table and chair, electronic safe, great A/C unit, bathroom had a tub/shower and complementary toiletries. The rooms close to the rear of the hotel and on the higher floors are quieter since some of the nearby bars are opened 24/7 & can be little noisy late at night.
Price Range: 

$$

 

                   Amenities:     

   
Guest Friendly policy reply by the Golden House International Hotel: "Thank you for your e-mail. We can let's the guest go with you to room ( no extra fee ). They should have ID card but any lost is your respond with the hotel. Best Regards, Siv Mey".

#139, Street 13, Sangkat Phsa Kandal 1, Khan Daun Penh, Near Riverfront, Phnom Penh
The Golden River Palace Guesthouse is pretty centrally located only 5 minutes walk to the riverside and maybe 10 mins to the Royal Palace and Silver Pagoda. Guesthouse caters to those in the budget category offering both rooms and dorms, there is no bar or restaurant here. Expect basic rooms with the essentials: AC unit, TV, minibar, wifi, fridge & wet room. The one I got was located on the top floor and had a balcony with a view. Staff was friendly, always a hello or goodnight upon entering the guesthouse.
Price Range: 

$

 

                   Amenities:     

   
Guest Friendly policy reply by the Golden River Palace Guesthouse: "It is okay if she has ID card. Don't worry about it. See u soon. 🙂 Kinds Regards, Bona".

15, Street 246, Riverfront, Phnom Penh
The Hotel Ofuro has a good location just 5 minutes walk to the Royal Palace and Silver Pagoda, also close to the Riverfront and nightlife. The hotel is also tucked away in a small alley so it stays peacefull at night. The 8 room boutique property has a modern minimalist black & white decoration with some nice paintings and artworks. All felt very cozy and private very much to my liking. The room was not exactly spacious but still good size and followed the same modern minimalist design with a big comfy bed at the center of the room, nice bathroom with shower and all the expected amenities: TV, small sofa corner, safe, mini-bar, wifi, safety deposit box, outside terrace, etc. The staff was very friendly, recommended!
Price Range: 

$

/

$$/

 

                   Amenities:     

   
Guest Friendly policy reply by the Hotel Ofuro "Greetings from H Hotel. Thank you for interested our hotel on your upcoming trip to Phnom Penh. Yes you can bring guest friendly to stay the night without charge. For the hotel Policy and Cambodian law, and the guest friendly must 18 years old or over. They must bring ID card for register at the hotel. And the hotel will not responsible for any damage or lost your belonging during your friend or any outsider stay with you. Please feel most welcomed to mail me back should you require any other information or assistance. Kindest Regards, Bun Reasey (Ms.) | Reservations Supervisor".

#53-55 E, Street 130, near Riverfront, Phnom Penh
The Monsoon Boutique Hotel has a great central location along the street 130 with plenty of girly/adult bars around this area, Riverfront is only a block away and within reasonable walking distance from the main touristy sights. The room itself was pretty cozy with the essential amenities covered: bed was comfy, A/C, TV, safety box, fridge, free WiFi and coffee & tea making facilities were also provided in room, bathroom had bathub/shower with cement floor and wall, free toiletries provided. For the 40$ range it's a great little place with an awesome location, I would definitely recommended it.
Price Range: 

$$

 

                                              Amenities:     

   
Guest Friendly policy reply by the Monsoon Boutique Hotel: "Thank you for your support to Monsoon Boutique Hotel. Please be informed that there is no additional charge for overnight joiner. However, she'll have to register at reception upon arrival by leaving her ID. Looking forward to your early confirmation with us soon. Regards, Leakhena Ya".

#4-6, Street 148, Riverfront, Phnom Penh
The Ohana Phnom Penh Palace Hotel (formerly Hotel Castle) has a good location only 2 minutes walk to the riverfront of which you can catch a glimpse from their rooftop restaurant with lots of bars, massage parlors and pubs within walking distance. The main sights like the Royal Palace/Silver Pagoda are maybe 10 mins away. The room I got was clean and tidy, bed was large and despite being on the harder side still comfortable, LCD TV, Safe, Free WiFi, A/C unit worked just fine, hot water OK, complete set of bathroom amenities, so no complaints here. There's also a nice pool at the ground level where you can unwind and cool off after a long day in the heat.
Price Range: 

$$

/

$$$

 

                            Amenities:     

   
Guest Friendly policy reply by the Ohana Phnom Penh Palace Hotel: "Hello, Thanks for your interesting our hotel. Please be informed that it is no charge for bringing the girl over night. If you wish to book a room with us near future we are please to inform that our hotel have many services as below: Dear Nigel Hughes, Warm greeting from Ohana Phnom Penh Palace Hotel,".

61 AB Street 172, Khan Daun Penh, Phnom Penh
The location of the Silver River Hotel is good with all the main sights (Royal Palace/Siver Pagoda/Central Market) within walking distance, the Riverfront is less than 5 mins away with plenty of bars and nightlife going on in the area.  Stayed in a Standard double room which was clean and basic but covered all the expected amenities (click for pic): LCD TV, Mini-Bar A/C unit ans a good shower in the bathroom with plenty of water pressure.  Only downside was there was no view from my room in the back of the hotel.
Price Range: 

$

/

$$/$$$

 

                   Amenities:     

   
Guest Friendly policy reply by the Silver River Hotel: "Warmest greetings from Silver River Hotel. Thank you very much for your supporting our hotel, regarding to your overnight guest inquiry I would like to recommend you to booking for 2 person staying if not like that we will have to  charge US$5.00 per night inclusive breakfast".

61 AB Street 172, Riverfront, Phnom Penh
The Sundance Inn & Saloon is a nice little budget joint within walking distance to everything you need: Riverfront 2-3 blocks to your right, touristy sights like Royal Palace 2 blocs down and the girlie bars of street 130/136 4 blocks up. Rooms are situated above a lively bar staffed by very friendly and happy locals which served good food and fairly priced drinks, a small pool is available in the back to cool off. The quality of the rooms greatly varies here so I would recommend any of their "King rooms" which have been recently renovated, the standards one have not. Those King rooms are basic but feature a comfy bed, fridge stocked daily with a couple of bottles of water, an air conditioner, a 32" LCD-TV, and a PC attached to it for browsing. Only downside was that the shower water never got anywhere over lukewarm but for the 25$ I paid can't really fault the place, good option in the end for those looking for something cheap .
Price Range: 

$

/

$$

 

                   Amenities:     

   
Guest Friendly policy reply by the Sundance Inn & Saloon: "Guests are allowed at no extra cost. Thank You, Harry".

277 Sisowath Quay, Riverfront, Phnom Penh
The Quay is a genuine boutique hotel that hosts 16 rooms and is ideally situated on the Riverfront right in the heart of Phnom Penh. Everything is within walking distance with the naughty nightlife only 2 blocks away with it's share of girly bars and clubs while the daytime touristy sights like the Royal Palace, National Museum and Pagodas are perhaps 10 mins away. Their Suite rooms are situated at the front of the hotel with a private balcony offering nice views out across the Mekong river and the promenade along it. The rooms are modern and stylish, complete with a great comfy bed, artsy reclining chairs, huge LCD TV with DVD player (DVD library selection is available at reception) and long writing table. The bathroom was also great with bathtub and rain shower. Hotel has a small bar with an even smaller Jacuzzi pool to cool off in on the roof top. Definitely one of the most stylish and comfortable hotel I've stayed in Cambodia, recipient of Certificate of Excellence 2014 by TripAdvisor.
Price Range: 

$$$

/

$$$$

 

                   Amenities:     

   
Guest Friendly policy reply by The Quay Boutique Hotel: "If you book to Agoda you can booked 2person, Then no need to worry to charge you when you bring girls In your room. Thank you very much, Best Regards -Front Office The Quay Boutique Hotel".